This project in the book uses stainless steel. The Variations section of the project talks about other forms of steel that can be enameled on, some being pre-enameled. The information below adds to this information.
Blackboard and Whiteboard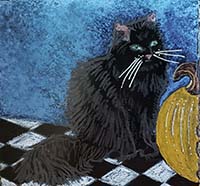 These two steel based materials come in both 24 ga and 28 ga and are used in classrooms to write on. The blackboard has ground coat on both sides; one side is fired smooth with enamel and one side is fired matte - both can be used for enameling. Any enamel can be added to these, including supplements that have no glass in them like mica pens/paints/powder and graphite pencil.
Here is a piece done by Lydia Morrison during a class she took with Martha Banyas, who teaches at various venues. Note Lydia's use of the graphite pencil to form the cat out of the background black.
Matha recommends these resources for buying Blackboard or Whiteboard
Kay Yee uses Blackboard to effect a "ghost effect" for background.