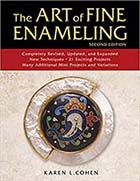 The Art of Fine Enameling, Second Edition, published by Stackpole Books/ Globe Pequot Press and Rowman Littlefield, is 320 pages long (twice the size as my first edition) with over 450 finished enamel photos (almost 1,000 including step-by-step and samples). As an overview, this page provides the book's Preface and Table of Contents, shows a visual index of the included full step-by-step projects and a list of the Learn The Technique (LTT) mini-projects. It's intention is for those who do not currently own the book - it's a way to find out more about what's in it. This page is referenced as the first entry in the Resources section in the book.
if you already own the book go to my Book Extension Site for new information that I've learned that didn't make it into the book. And if you don't already own the book, this Book Extension Site has more information that is available to you, too.
Charles Lewton-Brain says... "What a superb book you have built. Crazy amount of work! And as I posted [on Facebook], the most important book on enameling for at least 50 years. This is the Oppi Untracht of enameling books. A beautiful, thorough, exquisite job of it. Thank you for all you have contributed to the culture by doing this."
The book is currently available at Amazon and Barnes and Noble . I have signed copies for sale at $30, including shipping. If you'd like to buy from me, email me (if you don't hear back within 2 days, please call me -845/597/8386- as I didn't see your email) to reserve a copy (I have limited copies); I will respond with my mailing address so you can send a check for the money and include your mailing address. Any questions, just call me between 10am and 9:30pmEST.
I hope you enjoy the book as much as I enjoyed writing it. Happy Enameling!
---
Preface
Welcome to my enameling book: The Art of Fine Enameling, Second Edition. My first book was published in 2002, over 15 years ago, and we have all grown and learned a lot since then, which this sequel will pass on to you, the reader. Who says an old dog can't learn new tricks!

The wonderful world of enamels is so diverse, practically no other medium can compare. In its easiest terms, enameling is the fusing of glass to metal under high-temperature conditions. Thus, anything that can be made from enamel-friendly metal can be enameled; anything from vases to buttons, frames to jewelry, metal mesh to solid forms, large to small, or fancy to plain. Even the tub inside your common household washing machine and street signs are most likely enameled. With technology and innovation, this just keeps increasing.

This book is a look into the beauty of fine enameling, where artwork is created with colors and textures that bring joy to the heart. To start, why not simply browse the over 450 tantalizing photos of finished enamels that are included from over 165 enamelists? You will get a feel for the diversity of the medium and the charm of the finished pieces. Unlike other art forms such as painting and fabric arts, enamels won't fade with time; they are as permanent a medium as you will find.

As in the first book, the projects included are by contemporary living enamelists, not all full time professionals, but we do all teach, either at the college level or at the major craft education centers around the country. Some of the material included the first time around is included in this book, too. The organization is updated, 15 years of experience has been added, about half the projects have changed, nameless processes are now named, and two types of mini-projects to expand your learning experience are included. In addition, with each project, I have added a Technique Gallery of other artists' working in that technique to give a view of other ways that technique can look and be used. Some of these artists represented here only use enamels in their work periodically, but these show how enamels can enhance other art forms without the artist having to be a full time enamelist.

The projects included from my first book are some of the classical techniques such as Champlevé, Cloisonné and Plique-à-jour. The new projects are other traditional techniques or newer approaches to materials such as the use of Graphite Pencil or Enameling on Steel. The mixture of projects was meant to teach the basics and also provide instruction for more esoteric forms of enameling.

The mini-projects are general descriptions on a technique without giving full step-by-step instruction with photos. Two types of mini-projects are included: One type is associated with most projects - the variations to a full project. The other, which is labeled Learn The Technique (LTT), provides the reader with over 50 different processes (see below for a list).

Remember the wise words of Bill Helwig, mentor to many of the artists in this book: "if you can repeat a mistake three times, it becomes a technique". An example of this is the error of over firing silver on a copper base, forming a eutectic. This is now a project, Eutectic Effect, which gives some guidelines on how to control the process. Always keep in mind that although something didn't come out the way you envisioned it, it may be just wonderful and we'll call that: Oops Perfect!

Most of my work today is making Studio Buttons, those little pieces of artwork, created for sale to Button Collectors. As most people have not heard of Button Collecting (one of the top hobbies in the country), I wanted to show some of the gorgeous antique enameled buttons, which were created in many of the classical enameling techniques. I hope you find this as fascinating as I do.

We are always happy when younger people enter into the field of enameling. This is especially important as many enamelists are getting older and some have already retired. For many contemporary enamelists that have passed, I have included their work as a memorial to them.

Enamelists do not always agree on how things should be done. Thus the information in this book should be viewed as merely a starting point as it reflects the author's and other artists' views. Although some of the science about enamels is included, in general this book is a How-To text. More of the science can be found in the first five volumes of Glass On Metal (GOM) magazine, originally published in 1982 by Thompson Enamel, and now published by the Carpenter Art Enamel Foundation. Much of the writing was by Woodrow W. Carpenter, who has had a large impact in the enameling field.

Of course I still show many gorgeous enamels for eye candy. Thus the purpose of the book is not just a how-to primer, but a coffee table book and a way to learn and appreciate The Art of Fine Enameling.

--- Karen L. Cohen
---
Table of Contents
What is Enameling?
Enamelist's Studio
Enamel, The Material
Supplements and Add-Ons
Metal As A Canvas
Enamel Application
Firing Enamels in a Kiln
Finishing
Trouble Shooting
Technology

Appendix - Includes:

Coversion of Wire Gauge to Drill Bit Size
Organizations to Join and Enamel Support Organizations
Resources

Dedication
Acknowledgements
Contibuting Artists index
Index
---
Projects

There are 21 projects, each teaching something different. Some projects are the same as in my first book, mostly with updated write-ups; about half are completely different based on new trends in enameling.

It should be stated that many enameling techniques have to do with the preparation of the metal, not the application of enamel per se. That is, for example, the way you apply the enamel for Cloisonné and Champlevé are both wet-packing, but the metal preparation is totally different. Thus some projects like "Foldforming," "Metal Clay—Silver," and "Torch Fired Enameling" are heavy on metal preparation. However, as this is a book on enameling, not metalsmithing, some metal technical knowledge like soldering is assumed.

The "Steel Based Enameling" project is also special in that its most important aspect is the enameling of the base coat; after that, you can use any enameling techniques you'd like.

Although each project gives a step by step on how to apply enamel, the project "Sgraffito—Liquid Enamel with Layered Wet-Floating" provides a view on building up colors over a white ground that is useful in many ways. The term "wet-floating" is being newly introduced. It is advised to read this project with an eye to that information for use in other techniques for building layers of enamel colors.

The project "Painting with Enamels—Traditional Limoges" is quite complex in construction, but even if you are not interested in painting with enamels, it provides extensive information on construction of a multipiece project.

The project "Impasto, Grisaille, and Camaïeu" describes the technique of building up of white enamel to form highlights in an Impasto piece. This build up is the same for Grisaille and Camaïeu, all three having different backgrounds. The project discusses the differences and similarities between these three. Samples of the same study are shown in each of the techniques.

The project "Separation Enamel" also shows how to create a "foot" for 3D objects so that they are self-stilting, thus eliminating trivet marks in addition to being decorative. This concept can be used with other projects, as the reader deems fit.

There are some projects that are similar, but have major differences:

Painting with Enamels: The traditional Limoges project uses oxides, under-/overglazes, and the fines. The other uses different supplements and has an emphasis on drawing techniques. Although both are painting techniques, they are approached differently, and readers can decide if one or the other fits their style of artwork. [author's note - I have started using a combination of the two - starting with ceramic pencils and then using more of the traditional Limoges techniques).]
Sgraffito can be done with either regular grain-form enamel or liquid enamel, providing two projects. With LTT "Gold Leaf Sgraffito," Keith Lewis describes how to scratch through leaf. This is an LTT write-up and not a full project, but I mention it here because it involves Sgraffito through a layer before firing. However, because it is not a Sgraffito through enamel, it is not included as a variation of one of the two Sgraffito projects.

Each project includes a Technique Gallery and most have a set of variations. This helps the reader see and learn how other artists use this technique and the differences between them. My intention is to expand the learning experience for any one technique by describing these.

Note: many project artists have their own site and I link to those below. These artist links may show a current class schedule so you can sign up for a class. To get more information about a project that didn't make it into the book, go to - Book Extension Site



---
List of: Learn The TEchniques

The book has a separate index for these to make them easier to find. They are abbreviated: LTT
Annealing Metal
Blackened Edges on Copper, Avoiding
Cake Water Color Enamel Ink
Cat Hair in Your Enamels
Champavé
Cloisonné with Sgraffito
Copper Cleaning via Heat
Copper Folding
Counter-Enamel, Repairing
Counter-Enamel and Fire Both Sides at Once
Crackle Enamel
Depletion Gilding Sterling Silver
Doming Round Pieces with a Bezel Cup
Dop Stick To Hold a Small Piece
Enamel Leaf, How to Make
Enamel Pastels, Making Your Own
Etching an Enamel Surface
Firing a Transparent Directly on Copper
Flashing Fine Silver
Foils, Reticulated
Foil Shapes to Fit a Cloisonné Cell, Cutting
Foil Shapes With The Sizzix Esclips2 Machine
Foil to use as a Mosaic Pattern, Cutting
Fuming Dry
Gauzy Effect
Glow Powder
Gold Leaf Sgraffito

Grade-Sifting, How to
Granular Spray (liquid enamel application)
Granulation and Metal Clay
Hand Polishing
High Fire Webbing Design
Leaf, Application of
Liquid Enamel Mixing and 3-Drip Test
Liquid Form Enamel on Thin Copper
Metal Balls, Making
Non-Enamel Elements Added to Your Enamel Pieces
Perforating Foil
Precision Repetitive Wires for Cloisonné
Pull-Through/Breakup
Raku Firing
Roll-Printing
Scrolling
Sifting a 3D Object
Sifting a Flat Object
Sift & Tap
Silkscreening Process
Smoking Oil-Based Enamels
Soldering and Fusing
Spray & Catch and/or Crusting
Spray & Sgraffito with Multiple Layers of Liquid Enamel
Sugar Fire Finishing
Washing Enamels (remove the fines)
Wet Oil-Based Overglaze Painting Enamels [for Bubble Effect]