Thanks for browsing my site!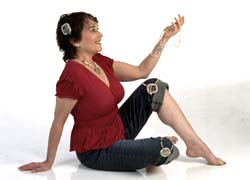 I'm Karen L. Cohen, an enamelist, beader, embroiderer and author with over 30 years experience creating my one-of-a-kind art pieces - jewelry, buttons and much more.
I started with jewelry in fine metal (gold and silver) and cloisonne enamel and then progressed to other forms of enameling making boxes, flatware serving pieces, wall pieces and sculpture, some with wearable parts. In 2002 I wrote a book on enameling, The Art of Fine Enameling. My work changed again when I fell in love with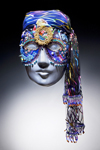 bead embroidery and then silk ribbon embroidery, and now I'm also creating crazy quilts and using machine and hand thread embroidery. What's next? Only the universe knows. But I do use these skills to create many different types of pieces, including dolls.
| | |
| --- | --- |
| | I'm also a member of the National Button Society and I create Studio Buttons in fabric (beaded), enamels and metal. |
Do you know what enamel is? Would you like to read about the various types of enamelling, like cloisonne, plique-a-jour, champleve, basse taille and more? It's really amazing how many different enameling techniques exist. I only use vitreous enamels, mainly leaded colors. I specialize in cloisonne, but also work in other techniques and in non-leaded liquid crackle enamels.
I teach at an art camp, Camp Med-O-Lark, for visual and performing arts. Every summer we are looking for counselors - enameling, beading, metals and more. See our flyer for details. I also teach at the John C. Campbell Folk School - like a kids camp but for adults; I usually teach in late March or early April.
| | |
| --- | --- |
| If you see a piece that you would like to purchase, note its code number and please contact me. | |
Here is some other info about me:
Are you a Weight Watchers fan? I am. In fact, I find a lot of low point foods that are really delicious. Try out my list and some recipes. I add new ones frequently so check back again.
I work with other jewelers to create their designs where they need enamels, but are not enamelists themselves.
I used to collaborate with my sister, Susan Jo Rochlin, who specializes in sculptural pearl and bead designs. She goes under the name of Mermaid's Jewelz. Both our sites show joint pieces, but her site has more of them. Wait until you see the unusual pearls she uses! She will use some of my cloisonné enamels, or my specialized metal work like Kuem Boo or Mokame Gane.
And I have a set of un-set jewels for anyone to purchase - some are doll faces.