Beaded Spirit Doll
If you roll your mouse over a doll, you can see it's back.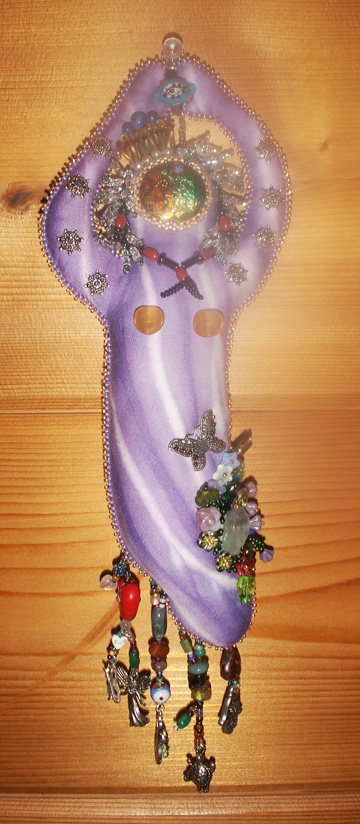 #1516 - Healing Eye Goddess


Inside Message:

May the Universe support your healing process.

Face:

Enameled Face is on copper, using reticulated foils technique, unleaded enamels, gold decal, flower wafer and fine silver wires and ball.

Healing Stones:

Amethyst - combat anxiety
Carnelian - nourishes and vitalizes your entire being, bestowing optimism and enthusiasm for life
Charoite - courage and to eliminate confusion
Florite - cleansing
Garnet - stone of health; helps dissolve negagtive energy.
Hematite for grounding and protection
Kyanite to balance body/mind/spirit - align the chakras and for peace in your heart
Lapis - for the eye chadra
Malachite to help with detoxification and against tumors
Pearls - Encloses you with an aura of calm and beauty; helps with stomach, digestion and emotional stress
Quartz - amplifies all that is tryng to be done
Red Jasper to help heal cancer
Reike symbol for healing on the back, in one of Marilyn's favorie colors
Rutilated Quartz to aid the immune system and help with radiation
Tourmaline - attract inspiration and dimish fear by promoting understanding

Symbols:

Butterfly - represents long life
Eye - to ward off evil
Flower garden - Love of flowers and gardens
Gardian Angel to watch out for you
Germany - vintage German beads (translucent yellow/orange winged one)
Glasses - represents sunglasses becuase you need to protect your eyes sometimes
Hearts because you are loved
Hemash Hand to represent your jewish heritage
Locket with Marilyn's photo (person who commission this doll) in it - when you hold this doll for comfort, you will have your very good friend with you always
Rose Quartz - love and self love
Sandal - Love of the Beach
Turtle for creativity
The doll body is a Shibori dyed fabric that Karen made, used because you are special; the edging of the doll is done with Karen's favorite bead.