Beaded Buddha for Kadampa Buddhism
I live in Milford, PA. Some time in 2006, one of the local cafes had a flyer for a set of classes on "Bring Peace and Joy into Your Life". Now who wouldn't want that! So I went and have continued to go ever since. These classes are on Kadampa Buddhism philosophy and are really very practical and inspiring. I have continued going to classes and have started going to Prayers for World Peace on Sundays at the temple. The main Kadampa Temple for the U.S. is in Glen Spey, NY, which is only 40 minutes from me. It is quite beautiful and peaceful to be at.
In talking with my teachers, it was determined that they could use some beading for a Buddha statue they were creating in their art worksop (one of the few in the world that decorate these statues). The Buddha is Vajrayogini, and the statue was sent to Singapore for a festival at the end of September 2007. This was quite a project; very enjoyable to work on and I learned a lot from doing it. I also made her an etched and enameled (technique is Champleve) necklace. Here is the statue as displayed in Singapore and then see a close up of the cothing.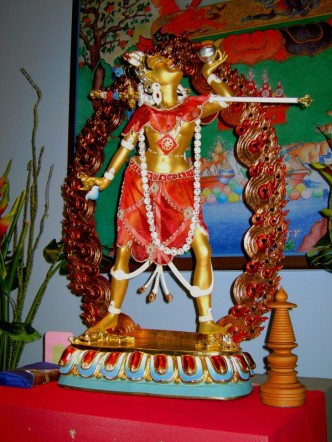 Close up of Clothing and Jewelry