Welcome to my 2007 Bead Journal
These pieces totally journal my life for the year. I decided to make my journal pieces into a pillow (but in April I decided it would be a wall piece for dust reasons). Each is a part of a spiral. The June piece (1st month of the journal) is a 2" circle and the center of the spiral. I love spirals and frequently use them in my art - the turning of time, spiral of life, energy flows in a spiral in our bodies, DNA is a spiral and all that. I also love purple so that is a repeating color I use. I have a particular favorite bead that my sister originally had. However, we didn't know where it came from and it took me a year to find it again! This is Czech #61016 (from YorkBeads.com - call them). I'm excited to say that I can get it again whenever I like. So, instead of hoarding it, it will be used in each month's piece.
Here is the over all piece which is now completed. Just click on one of the pieces and a page for that piece will appear with a larger photo and info on what went into it.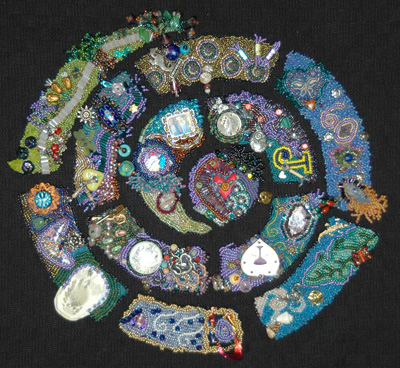 Back to Karen's BJP overview