Bead Journal Project 2007
April 2008 - 11th in series
Theme: My Favorite Art Forms
This month I decided to honor the art forms I love (thus the heart bead) to do:
Enameling - although I specialize in the Cloisonne technique, I do create with others. The one on this piece is a crackle enamel on copper with a purple luster on top with gold foil flecks.
Chinese Brush Painting - I have only been doing this a short while (under 2 years), but really enjoy it. After the Four Gentlemen (the 4 basics to learn all the keystrokes), I started doing other images. Shown here is an owl that I am putting into a picture with yellow mums. I started doing this art form thinking I could add this to my enamels. However, the brush strokes are not the same, but I can get a visual that looks like they are. Check out this donated piece and this first test of the technique.
Beading, of course. This is represented by the copper filligree and the beautiful iridescent bead on top of it.
Scrapbooking - I really loved this when I first started. Then I made a scrapbook for my baby cousin and got burnt out. But I love to use the technique to make cards and signs and would make more scrapbooks, should I have a special occasion. This is represented by the fancy metal brad (looks like star or flower) under the enamel in the center.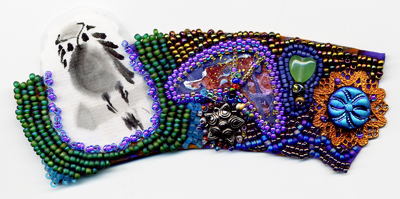 Back to Karen's BJP overview