Bead Journal Project 2007
December 2007 - 7th in series
Theme: Celebration...
A few things happened this month...
Boy riding a seahorse: the symbol of Puerto Vallarta, Mexico. I went to visit my best friend from camp, Carol Anne, in PV, where she lives for the winter. We teach art together at Camp Med-O-Lark in Washington, ME.
Fused Glass beanie & silver wire circles and the spacer on the fused glass: playing with Carol Anne in Mexico - she creates gorgeous fused dichroic glass pieces so we got to make some while I was there. We went to a few bead stores in PV and I got some new items.
3 Firecrackers: to Celebrate the New Year and all the holidays this month
Turquoise: to celebrate my daughter Judith's birthday on the 31st
Glass Fluted Purple Bead: one of the beads I got for the holidays
Pearl/Bamboo/Pink Tourmaline/Opal dangle - this is for my sister Susan who loves pearls, opal & pink troumaline are her birthstones, and bamboo for luck. Susan was diagnosed with urterine cancer, the operation when well, and this is for good fortune in her future.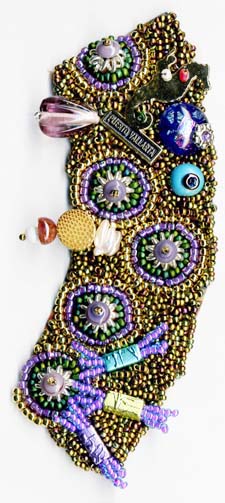 Back to Karen's BJP overview